This is the result of a crash between a VW gold and a Honda 750-cc RC30 motorcycle that is wedged inside.
Three people were killed instantly when the bike ploughed directly into the side of the car as the car made a left turn. The impact flipped the car over.
The graphic display was placed at the Stockholm Motorcycle Fair by the Swedish Police and Road Safety Department. The sign above the display noted that the rider had only recently obtained his license. It is a reminder to us all in Ashbourne to slow down and be more vigilant.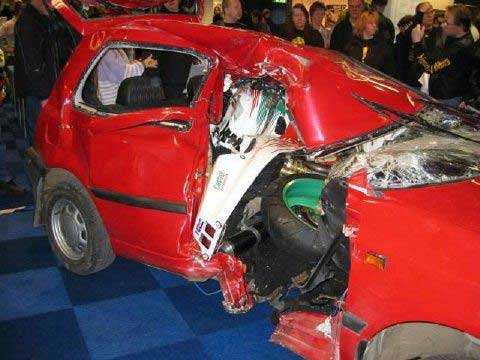 The Honda rider was traveling at such a "very high speed", his reaction time was not sufficient enough to avoid this accident as the driver went to make s left turn perhaps not seeing the bike. Swedish Police estimate a speed of ~250 KM/h (155mph) before the bike hit the side of the slow moving car at an intersection. At that speed, they predicted that the rider's reaction time (once the Volkswagen came into view) wasn't sufficient enough for him to even apply the brakes.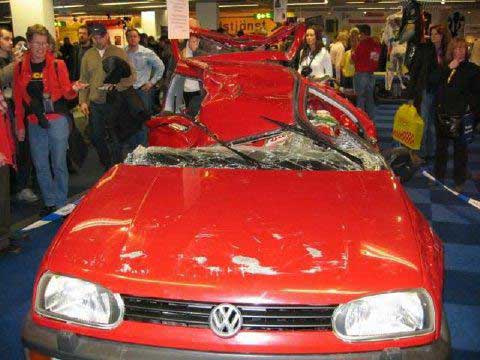 The car had two occupants and the bike rider was found inside the car with them, along with the motorcycle itself.
The Volkswagen actually flipped over from the force of impact and landed 10 feet from where the collision took place. All three involved (two in the car, plus the rider) were killed instantly.
Many reports claim that the driver was on their mobile phone but that is not the case. You can see however how your lack of concentration due to being on a mobile could end.